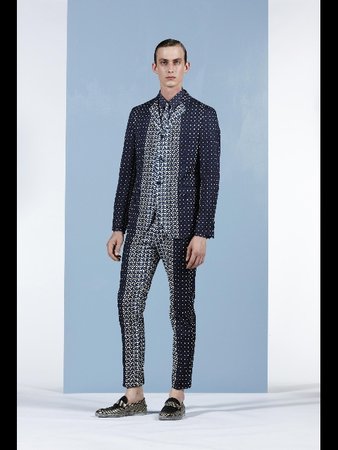 Image from Fashion Mag
The male aesthetic evolves and must evolve the way we present it.
Fendi has chosen the top floor of the Pirelli Tower, with a 360 degree view of Milan mannequins that seem to march and a short film, entitled 'Arrival', to make the idea of a man in motion.
But above all, a superfine collection, contemporary, lean, efficient, precious and graphical, created by Silvia Venturini Fendi (which for the man moves, quite independently, without the guidance of Karl Lagerfeld).


L'estetica maschile evolve e deve evolvere anche il modo di presentarla.
Fendi ha scelto l'ultimo piano del Pirellone, con vista a 360 gradi su Milano: manichini che sembrano sfilare e un cortometraggio, intitolato 'Arrival', per rendere l'idea di un uomo in movimento.
Ma soprattutto una collezione sopraffina, contemporanea, asciutta, efficiente, grafica e preziosa, creata da Silvia Venturini Fendi (che per l'uomo si muove del tutto autonomamente, senza l'egida di Karl Lagerfeld).