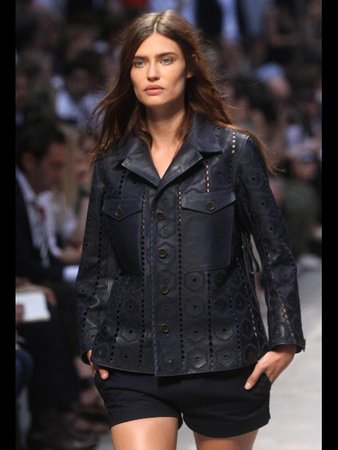 Photo Ansa
To conquer new markets, such as Asia and South America, Diesel Black Gold focuses on the military-chic look, made of a special mix of tailoring and inspirations from the world of the army and de-luxe details.
In line with the trend of this season that brings more and more designers to present the man and woman together on the catwalk, maybe wearing the same clothes.
At Diesel Black Gold, Bianca Balti walks the runway with short pants and jacket in perforated leather. To applaud Adrien Brody and Eva Riccobono.
http://www.lyst.com/diesel-black-gold/?gender=Men
Foto Ansa
Per conquistare i nuovi mercati, come quello asiatico e sudamericano, Diesel Black Gold punta sul look militar-chic, fatto di un mix speciale tra tagli sartoriali, ispirazioni dal mondo dell'esercito e dettagli de-luxe.
In linea con il trend di questa settimana che porta sempre più spesso l'uomo e la donna insieme in passerella, magari vestendo gli stessi abiti, da Diesel Black Gold sfila anche Bianca Balti, con short e giacca in pelle traforata. Ad applaudire Adrien Brody ed Eva Riccobono.