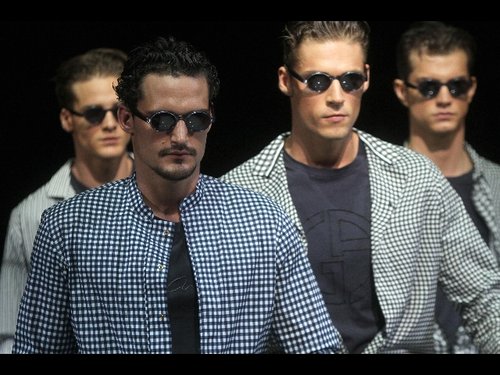 Foto Ansa
Clothes make the man, or rather makes him a man, educates him, somehow taught him to live. The clothes of Giorgio Armani on the catwalk seemed to say ''wear me and I'll show you how to do, how to move, how to seduce''.
The fashion show, which ended the four days of Milan Fashion Week, made ​​me think of an American Gigolo of the year two thousand He looks loose but not sloppy, uses colors but does not take advantage, mix everything well, overcoming the barrier between sportswear and formal, between day and night.
Visit the official website
armani.com
L'abito fa l'uomo, anzi lo fa uomo, lo educa, in qualche modo gli insegna a vivere. I vestiti di Giorgio Armani, sulla passerella sembravano dire ''indossami e ti mostrerò come fare, come muoverti, come sedurre''.
La sfilata, che ha chiuso le 4 giornate di Milano Moda Uomo, faceva pensare ad American Gigolò del Duemila. Ha l'aria sciolta ma non sciatta, usa i colori ma non ne approfitta, mescola bene tutto, superando la barriera tra abbigliamento sportivo e formale, tra giorno e sera.
Visita il sito ufficiale
armani.com