Swarovski Elements
, il marchio di riferimento per gli elementi in cristallo prodotti da Swarovski, annuncia il lancio del nuovo sito e della nuova campagna internazionale che, per tutto il 2012, avrà come protagonista la stilista francese Yiqing Yin. Il nuovo portale ha una rinnovata impaginazione che condensa progettazione web e funzionalità; proposto anche un nuovo iPad Magazine (scaricabile gratuitamente dall'App Store) in edizione mensile, in cui sono rappresentate le collaborazioni con i partner. Impossibile non pensare alle scarpe gioiello di Stuart Weizman realizzati (ovviamente) con Swarovski Elements.
L'accesso al nuovo sito permette ai visitatori di essere al corrente delle iniziative, delle ultime novità del brand e le informazioni sulle collaborazioni. È anche possibile scoprire l'agenda degli eventi, notizie e cronache dettagliate su scala locale e internazionale ed infine accedere all'eShop e ad una vetrina speciale per Swarovski Cristallyzed™.
L'ampliamento del sito vede anche l'introduzione di una novità importante: un link diretto all'area Business to Business per i partner attuali e futuri, dove si possono trovare informazioni sui programmi di branding e su come diventare branding partner. I clienti già partner possono trovare in quest'area una guida del settore completa; accesso immediato agli orientamenti e alle tendenze attuali del design, informazioni su qualsiasi tipo di tecnica applicativa e le coordinate di centri applicativi consigliati. Inoltre è a disposizione l'intero database dei prodotti del marchio consultabile in base a diversi criteri quali design, partner, settore, categoria e colore.
Per la campagna stampa, la qualità, la manualità e il lusso luminoso del cristallo sono i temi principe, trasmessi attraverso la testimonial scelta che è la stilista francese d'alta moda Yiqing Yin, che per l'occasione ha realizzato una giacca d'alta moda presentata durante la sua sfilata il 25 gennaio a Parigi.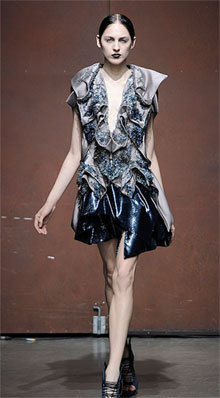 Yiqing Yin è nata a Pechino, ma è in Francia dall'età di quattro anni e oltre a essere stata scelta, dal consiglio direttivo della Chambre Syndicale de la Haute Couture, come stilista-ospite nel calendario parigino dell'alta moda, ha anche ottenuto il Prix des Premières Collections dell'Andam (Association Nationale des Arts de la Mode). La sua sfilata d'esordio è stata presentata durante la settimana dell'Alta moda parigina per la stagione Autunno/Inverno 2012-13. Una delle creazioni di Yiqing Yin, decorata di Swarovski Elements che hanno sfilato a Parigi durante la settimana della Haute Couture per l'autunno-inverno 2012/13
Autore delle immagini di questa nuova campagna è il fotografo inglese Jacob Sutton, già interprete delle campagne di Burberry, Hermès, Adidas, Stella McCartney e Bergdorf Goodman. Gli scatti seguono la linea della purezza minimalista, con un approccio più mirato al prodotto e alle sue potenzialità creative.
Il marchio ha presentanto, in occasione dell'ultima fiera milanese del tessile "Moda In" (dal 7-9 febbraio), le Tendenze Primavera/Estate 2013, passate da 5 a 4 totali: "Embracing Togetherness" (Classic), "Journey to the Moon" (Progressive), "Blowing Kisses" (Romantic) e "A Feeling of Freedom" (Glamour). A caratterizzare la nuova stagione, in un clima di sobrietà e discrezione sono aggregazione e famiglia, tecnologia e spazio cosmico, fantasia e allegria.