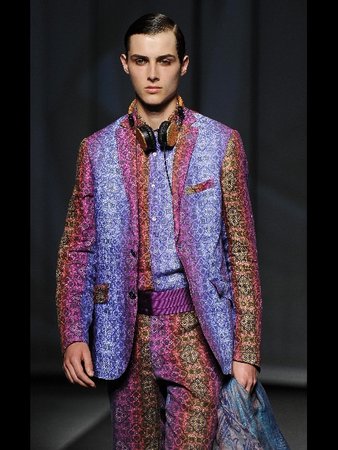 Male and female, East and West together in a circular union that aims to achieve perfection, at least in style.
Kean Etro wants to capture the essence of the Maison combining the rigor of tailoring, very manly, to the rustling silks of a more feminine imprint. New age music and 3D images introduce the man Etro in precious jackets of silk damask or fantasy Playsley, baggy pants, caftan and turban on his head.
Italian
:
Femminile e maschile, oriente e occidente, insieme, in un'unione circolare che mira a raggiungere la perfezione, almeno nello stile.
Kean Etro vuol catturare l'essenza della Maison unendo il rigore dei tagli sartoriali, estremamente virili, alle sete fruscianti d'impronta più femminile. Musica new age e immagini 3D introducono l'uomo Etro in preziose giacche in seta damascate o a fantasia Playsley, pantaloni larghi, caftani e turbante in testa.