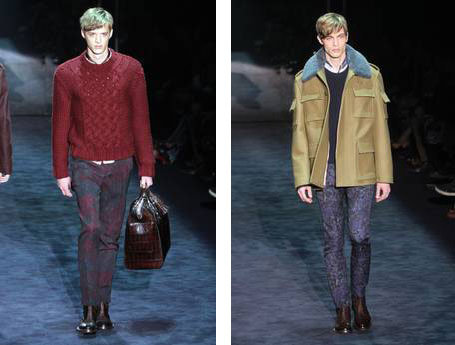 Gucci Men, more of a chic dandy than a damned poet. The damned poets like Baudelaire, Viscontian atmosphere with modern and 'grunge': Frida Giannini had promised a trip to hell, a luxury version of Gucci rebel, an intellectual decadent a bit 'at Helmut Berger, a bohemian vagabond and disheveled.
This collection, again very apt and Gucci, full of style and precision.

Gucci : più dandy sciccoso che poeta maledetto Poeti maledetti alla Baudelaire, atmosfere viscontiane e insieme modernamente 'grunge': Frida Giannini ci aveva promesso un'andata all'inferno, un lusso Gucci in versione ribelle, da intellettuale decadente un po' alla Helmut Berger, da bohemien vagabondo e scapigliato. Ma gli stilisti si fanno dei film, più che altro mentali, e spesso l'annunciato è molto diverso dal risultato: ma questo solo per la cronaca, perché ciò che davvero conta è la collezione, anche stavolta azzeccata e molto Gucci, piena di stile e di precisione.
Dimenticata, dunque, l'aspettativa di un disordine alla 'poete maudit' o almeno di una trascuratezza shabby-chic, ecco una sfilata curata ed elegante in ogni dettaglio. Il personaggio in realtà è uno sciccoso dandy moderno in versione hollywoodiana, un Ryan Gosling scanzonato, ma accuratissimo nel vestire ("quando lo vestiamo - racconta Frida - ci chiede sempre qualcosa di eccentrico").
Bellissimi cappotti oversize con martingala, pantaloni stretti in jacquard di seta a telaio, velluti floreali in nuances scure di verde e granata, per giacche smilze e quadrate, stampe di rose e di iris in colori impastati e decadenti, doppiopetto da esteta e giubbini di panno dal sapore militare, con sovrapposizioni studiate di camicie guru e cardigan romantici. La luce in sala vorrebbe diffondere una magia drammatica quasi caravaggesca, rimbalzando sugli specchi anticati.
L'effetto è comunque seducente: gli abiti, che hanno qualcosa di equestre, e soprattutto gli stivali da cavallo, importanti e stringati davanti come una scarpa derby, danno un tocco romantico a questo giovane gentiluomo che vorrebbe essere d'altri tempi.
Soprattutto quando di sera indossa trench e blazer neri di cavallino lazerato con effetto 'breitschwanz', smoking in preziosi velluti damascati da tappezzeria (la stilista di Gucci è riuscita però a farli fare, in Italia e in Inghilterra, in una innovativa versione morbida, come si conviene a un tessuto da indossare) e giacche da camera con pantofole di velluto o vernice.
Preziosi tutti gli accessori, incominciando dai borsoni stile diligenza in vitello usurato ad arte e dalle cartelle con manico in corno, per finire alle lussuose valigie che mescolano il coccodrillo al floreale velluto jacquard. Per completare i vezzi di questo dandy contemporaneo, anelli chevalier e piccoli romantici rosari.
Gucci, collezione uomo, autunno-inverno 2012/13 - Foto Ansa